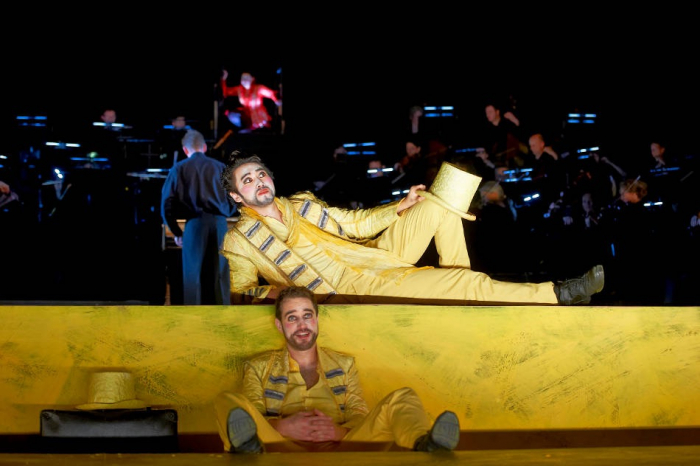 Hye-Soo Sonn, Bass
After winning the 1st prize at the International "Maria Callas" Grand Prix Competition in Athen in 2003, he began his career as a member of the ensemble at the Staatstheater Nürnberg where he sang leading roles such as Colline, Ferrando in "Il trovatore", Raimondo in "Lucia di Lammermoor", Figaro in "Le nozze de Figaro" and Leporello with the conductor Philippe Auguin. And from 2006 to 2013, as an emsenble member at the Hessische Staatstheater Wiesbaden, he sang numerous leading roles including Colline, Alidoro in "Cenerentola", Leporello in ,,Don Giovanni", Sparafucille in ,,Rigoletto", Wurm in "Luisa Miller", Basilio in "Der Barbier von Sevilla" and Mephistophélès in Gounods Faust. As a guest singer, he was invited to sing at the State Opera of Hongkong as Mephistophélès in Gounouds "Faust" under David Stern, at the Teatro San Carlos Lissabon and in Ferrara and Modena as Truffaldin in "Ariadne auf Naxos" "Don Quijote", an opera by Cristóbal Halffter, in "La Forza del Destino" and ,,La gioconda" at the Kiel opera, and at the Hamburgischen Staatsoper he sang Monterone in "Rigoletto",Soldat in "Salomé" and Barone Doupol in "La traviata" unter Simone Young. Also Mr. Sonn recently sang Figaro"Le nozze di Figaro" and Tierbändiger/Rodrigo in "Lulu" at the National Opera of Seoul and did Leporello at the Festspiele Sankt Margarethen in Austria.
Hye-Soo Sonn is also well known for his career as an concert- and oratorio-singer. he sang at the Mozartwoche in the Salzburg Mozarteum under Dennis Russell Davies and at the Olympus Festival in St. Petersburg. With an own Recital he was heard in Tokio, Hongkong, Bordeaux and at the Théâtre Royal de la Monnaie in Brüssel. he sang Beethovens 9th symphony with Myung-Hoon Chung conducting in Seoul and in Holland with the Orkest Gouda. In 2008 he did "Die Schöpfung" with Mihkel Kütson. In the context of the concerts with the Hessische Staatsorchester Wiesbaden he sang in Verdis "Requiem".
Mr. Sonn studied at the Seoul National University, the Universität der Künste Berlin and at the Hochschule für Musik in Dresden. In 1998 he won the 1st prize at the National Singing Contest of Korea, the 1st prize at the Concours International d'Opera Ville de Marseille in 2001 and the 1st prize at the International Mozart-Wettbewerb Salzburg in 2002.